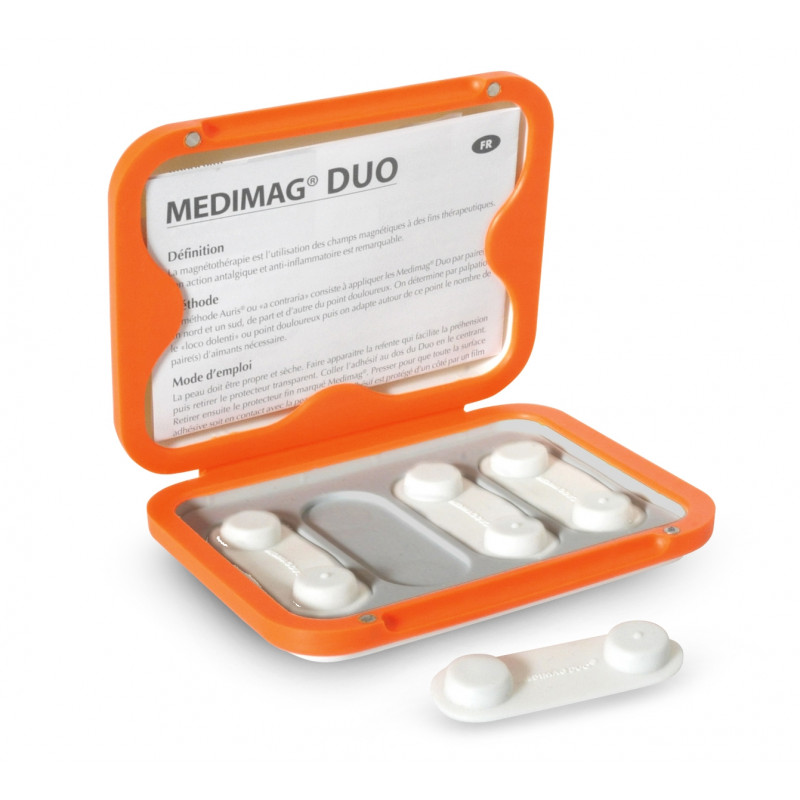  
Medimag Duo Therapeutic Magnets
Medimag DUO offers the simplicity and efficiency of AURIS neodymium therapeutic magnets ready for use in complete safety. Protected by a soft silicone shell, they adapt to all your needs.
Voir le descriptif complet
Customers who bought this product also bought:
4 therapeutic magnets Medimag Duo remanence 12200 Gauss recommended for the wrists, inches, heels ...
Each Medimag Duo includes 2 x 12.5 mm neodymium magnets, embedded in a soft silicone.
20 double-sided adhesives (good hold in the shower)
Washable with soapy water
Medimag Duo Therapeutic Magnets are reusable. Regardless of the number and duration of use, Medimag Therapeutic Magnets retain their effectiveness.
It is possible to use them on the skin or over clothing.
Compatible with other AURIS items.
Pathologies:
Muscle aches.
Joint pain
Chronic pain.
Rhizarthrosis.
Tenditine.
Multi-purpose, we can expect the same benefits as magneto-active textiles (Wondermag magnetic fingerstall, Wondermag magnetic peg, Wondermag magnetic elbow, etc).
Delivered with 20 hypoallergenic adhesives in a very design and practical box for easy storage. Their very clear and detailed instructions will guide you for the best use.
Their careful manufacture, their particularly studied design: rounded edges that do not mark the skin, a high resistance to oxidation to prevent the risk of allergies make it the indispensable accomplice of your well-being.
Directions for use: To put them well, it's very easy, just start by determining by simple palpation the epicenter of the pain. It is then necessary to place a Medimag Duo on both sides of the pain. If necessary, place several pairs of Medimag Duo.
Creation 100% AURIS.

Free delivery
in relay from 89€ of purchase and free for Tribu members

Need help ?
+33 4 77 92 30 90
Monday - Friday
9am / 5pm

Order placed until 3:30 pm
same day shipping
Monday - Friday