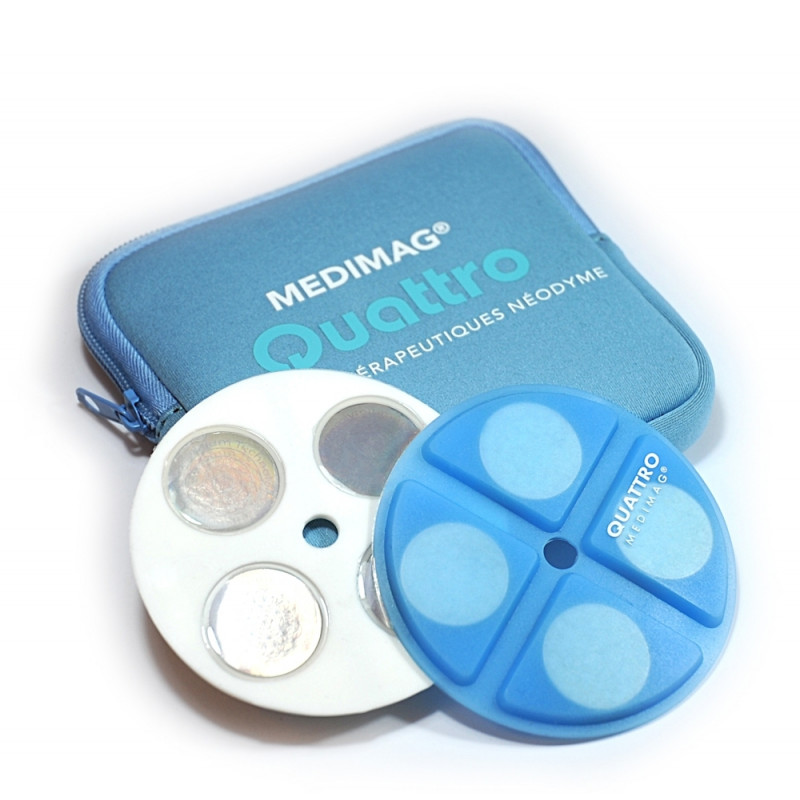  
Medimag Therapeutic Magnets Quattro
Customers who bought this product also bought:
AURIS has specially designed the Medimag Quattro for you. The 8 Medimag Quattro therapeutic magnets prepositioned in a soft silicone shell will help you keep the youth of your joints in all circumstances: gardening, running, prolonged driving ...
Double-sided adhesive
they are easily attached, on your back, your shoulder, your thigh, ... To place them, it's very easy, just start by determining by simple palpation the epicenter of pain. It is then necessary to place a Medimag Quattro on both sides of the pain. Medimag Quattro therapeutic magnets are recommended for all areas of the body.
The Medimag Quattro Therapeutic Magnets box contains:
2 Medimag Quattro Ø 85 mm: a Quattro Nord and a Quattro Sud.
Each Medimag Quattro includes 4 magnets neodymium overmolded Ø 25 mm remanence 12 200 Gauss.
20 double-sided adhesive discs (good resistance in the shower).
Delivered in its storage pocket.
Additional 20 double-sided adhesive discs

Free delivery
in relay from 89€ of purchase and free for Tribu members

Need help ?
+33 4 77 92 30 90
Monday - Friday
9am / 5pm

Order placed until 3:30 pm
same day shipping
Monday - Friday