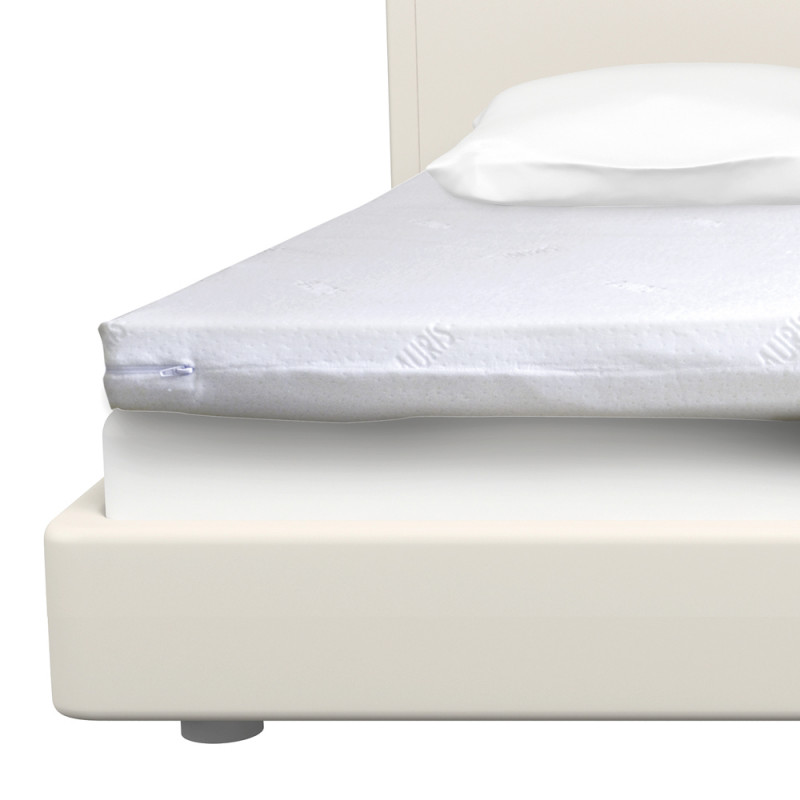  
Actiform magnetic mattress pad
Customers who bought this product also bought:
For a full of energy wake-up call
The Actiform Magnetic Mattress topper fits every position of your body, relieves pressure points and returns to its original shape every morning for a perfect sleeping experience. Adaptable to all types of bedding, it brings you every night its many benefits for a full of energy wake-up and tonic days. This Actiform magnetic mattress is also suitable for ageing bedding or very thin mattresses (Futon type).
Instructions for use: Install the Actiform magnetic topper on your original mattress and let the powerful Auris neodymium therapeutic magnets act.
Number of therapeutic magnets varies according to size
Can be used every day. It adapts to all morphologies. It is compatible with other AURIS products such as the Actipol sleep set, the Biosom and Actiform magnetic pillows and the magnetic insert for the pillow and bolster pillow.
120 neodymium therapeutic magnets ø 25mm, remanence 12 200 Gauss.
Available in: 160 x 200 cm = 2 tops 80 x 200 cm. Thickness 7cm.
Memory foam shape.
Moulds the body by immersion in the material.
White colour.
Available in 3 sizes:
Size 3: 160 X 200 cm = 2 tops 80 x 200 cm, 120 magnets. Price: 659.90€ (Reference 00 158.7)
The given dimensions can vary by about 2 cm. It is normal to notice 10 cm less in length when opening. After a few days and depending on the room temperature, the mattress tops reach its final length.
If one of the templates is not displayed in the drop-down list, it is because it is currently a victim of its success.
Maintenance tips
Completely removable.
Washable cover up to 60°C.
Pathologies:
Fibromyalgia.
Osteoarthritis.
Rheumatism.
Muscle tension
Anonymous customer published the 20/10/2016 following an order made on 20/10/2016
Odile F. published the 20/10/2016 following an order made on 20/10/2016
j'ai 3 lits équipés de sur matelas dont 1 lit chambre d'amis que je transporte à chaque vacances dans ma caravane. Toutes les personnes qui dorment chez moi constatent qu'elles dorment mieux sans douleur le matin... ça fait des envieux et probablement de futurs acheteurs. Je conseille

Free delivery
in relay from 89€ of purchase and free for Tribu members

Need help ?
+33 4 77 92 30 90
Monday - Friday
9am / 5pm

Order placed until 3:30 pm
same day shipping
Monday - Friday