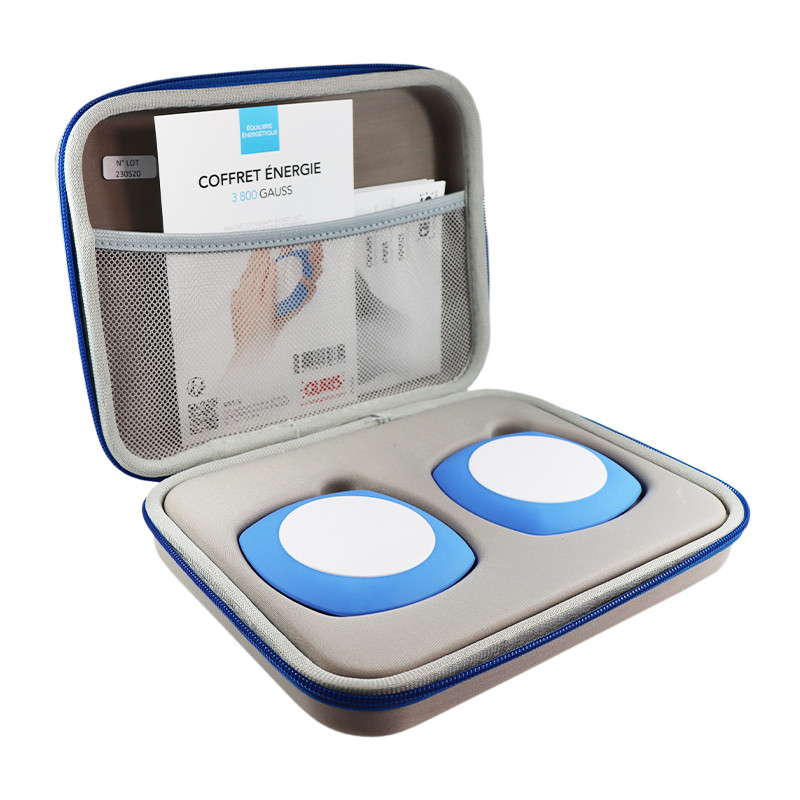  
Magnet box 3800 Gauss
The 2 powerful therapeutic neodymium magnets of the 3 800 Gauss box provide a deep rebalance. Regularity is more important than duration, a daily session of a few minutes is usually enough to feel good.
Voir le descriptif complet
Customers who bought this product also bought:
2 neodymium therapeutic magnets Ø 55mm, remanence 3 800 Gauss.
Use and storage rack sheathed in black faux leather.
Shockproof elastomeric shell approved cutaneous contact.
Dimensions of each magnet: 82 x 82 x 15 mm.
Detailed and illustrated instructions.
Attention: magnets very powerful, to handle with caution.
Answers to the questions you ask yourself:
The regularity of rebalancing sessions is more important than their duration, a daily session of a few minutes is usually enough to feel good.
Energy requirements vary from day to day. The duration of the sessions is to adapt to his feelings.
An investment for your health, the magnets keep all their effectiveness, whatever the number and the duration of the sessions.
Compatible with other AURIS items.
Every day, our minds undergo more or less important attacks that always have, in the more or less long term, repercussions on our physical health.
Magnetically polarizing the extremities of the body (hands and feet), where the greatest number of nerve endings are concentrated, restores the energy circulation, essential to a good state of health.
Its bi-material composition, its ergonomic shape that facilitates the grip and its innovative design make the use of this energy rebalance cabinet designed and designed by AURIS as pleasant as it is effective.
To meet the needs of everyone, AURIS has created 3 energy rebalance cabinets, from the most powerful to the easiest to handle: 12,200 cabinet, 6,500 cabinet and 3,800 cabinet.
Instructions for use: Place the ends of the hand or right foot on the North polarity (marked by an N) and the ends of the left hand or foot on the South polarity. Hold the position for several minutes to let the energy flow.
Creation 100% AURIS.

Free delivery
in relay from 89€ of purchase and free for Tribu members

Need help ?
+33 4 77 92 30 90
Monday - Friday
9am / 5pm

Order placed until 3:30 pm
same day shipping
Monday - Friday