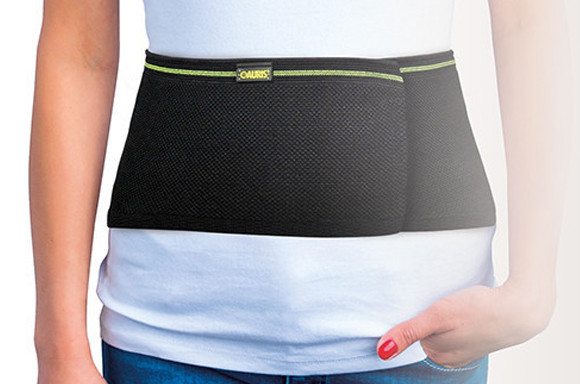 Back / Stomach
Every French person has suffered, is suffering or will suffer from back pain . Does that mean that it's inevitable? The factors of this "pain of the century" are well known: sedentary life, inactivity and being overweight. But back pain is neither hereditary nor inevitable, it is up to everyone to feel responsible for their back pain and not to suffer from it, because it is possible to take preventive action.
New highly effective therapeutic solutions exist: Auris "magneto-active" orthoses, they provide a slight restraint without being immobilising and provide a local analgesic effect linked to a reduction in the conduction of certain fibres of the pain of the peripheral nerves and to a stimulation of the secretion of endogenous opioids (powerful naturals painkillers). This effect is believed to be due to the presence of strong Neodymium Iron Bore medical magnets (3000 Gauss in contact with the skin).
Thus, magnetic therapy offers many natural solutions, since they are non-invasive, to treat back problems: low back pain, back pain, lumbago, sciatica, hernias... can be effectively treated with Auris therapeutic magnets. Don't let the pain become crippling.
Preventing back pain
To prevent back pain, you need to replace short trips by car with the good old-fashioned walking, take the stairs instead of the elevators, and do not sit in front of a screen more than you need to maintain your muscles.
Why are these common sense advices effective?
Because they maintain the musculature and loss of musculature is responsible for back pain. To cope with their back pain, French people prefer to take medication (52% use painkillers or anti-inflammatories).
Natural and very simple solutions make it possible to prevent back pain. An observation from a survey conducted by OpinionWay among a sample of 1,009 French people, representative of the French population over 18. This study, conducted for the Vexim back trauma company, reveals that 38% of French people have suffered from back pain more than 10 times in the past five years. This means that more than 1/3 of them are very regularly suffering from back pain.
The study also states that women are "substantially more at risk", with 61% of women reporting that they are often affected by this scourge, compared to only 39% of men. It should also be noted that young people are most affected by the so-called "pain of the century": 84% of the 18-24 year olds report having had back pain. In detail, 25% of the young people interviewed often have pain, 37% occasionally and only 15% never suffer from it.
18-24 year old victims of their backs
Overall, French people do not manage their pain well since only 22% of them say that they are "satisfied" with the solutions they implement to reduce it. To cope with their back pain, French people prefer medication (52% use painkillers or anti-inflammatories) rather than a consultation with a doctor or another health professional (kinesiotherapist, osteopath). Most of them have to combine 2 or 3 treatments and almost 1 in 5 French people admit "not doing anything." This is often the case for younger people, 1/3 of the 18-24 year olds neglect chronic back pain and remain passive. "Everyone has back pain, so it seems logical and we
don't take the time to treat ourselves", says Steffen Queinnec, surgeon at the Parisian Back Institute. Especially when you're not aware of the different treatment options. Sophie Jacquot, a physiotherapist specialised in the back, used to warn her patients like this: "Back pain is not inevitable! I have patients who tell me that their parents had back pain, but it's not hereditary at all. People need to feel responsible for their backs, not victims. »
30% of acute low back pain become chronic
Worrying about these small tensions can be useful... especially at 20 years old. "Young people spend a lot of time sitting on their couches in front of the computer", regrets the physiotherapist. If you get used to having your back curved up, the discs will break faster. And the pain radiates all over the body"
Especially since some of these young people who underestimate their pain may then develop a disabling low back pain. "The sooner you get to the problem, the better you can fix it", continues the surgeon. At the Institute, we receive mostly blocked patients or people who consult after three or four years of pain. The challenge is to reach patients in intermediate situations. However, 30% of acute low back pain will become chronic". A pitfall to be avoided while you can still change your habits, "especially since the disease can quickly isolate the patient if the pain disturbes your professional and social life. »
When should you worry ?
"When you have a low back pain that lasts more than 10 days or is recurring, you should consult", advises the surgeon. Another warning signal: "if you can't sit for more than 15 minutes"
What are the solutions ?
It is through movement that muscles repair, maintain themselves, and that the ligaments regain their flexibility. The efficacy of the Auris' therapeutic magnets against back pain has been validated by the Lombalgis clinical study. With a decrease in pain threshold of 4.2 points on the Visual analogue scale(which includes 10 points) and a decrease in the consumption of painkillers and NSAIDs, magnets offer a real alternative to the treatment of low back pain and back pain in general.
Auris suggest the magnetic horizontal Lomboflex to target low back pain but also the Wondermag trapezes backrest that perfectly covers the dorsals, shoulder blades and trapezes or the Lombo-abdominal magnetic belt for a global action on the back and the abdomen.