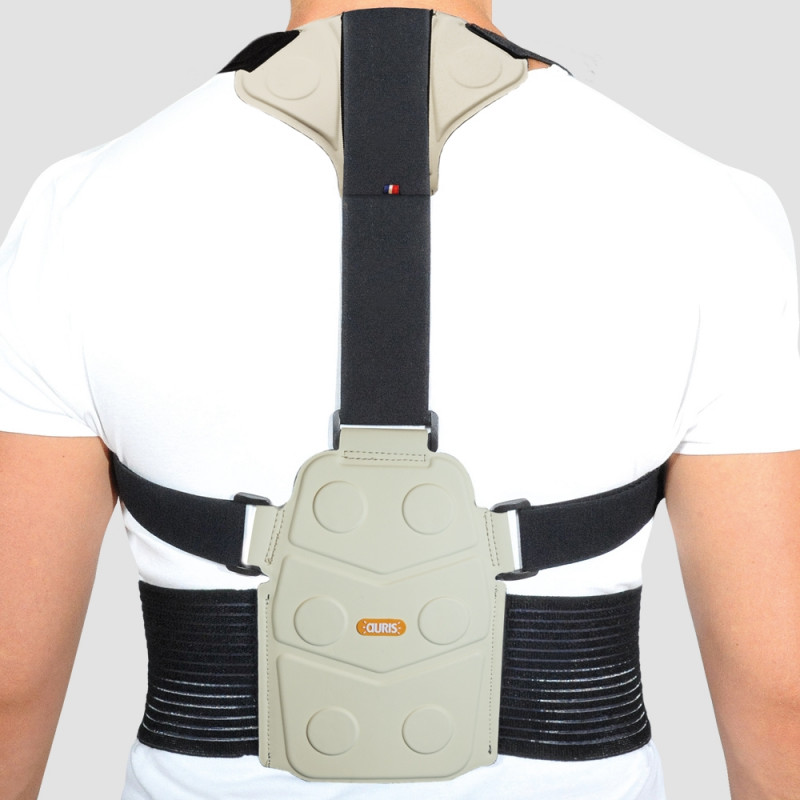  
Wondermag magnetic back straightener
Customers who bought this product also bought:
The benefits of neodymium therapeutic magnets
A product of Auris expertise, the Wondermag Magnetic Back Straightener also brings you all the benefits of magnets. It forces your back to adopt the correct posture and gently. Thus it corrects bad posture, supports the back and brings the shoulders back into the correct position while remaining very comfortable.
Instructions for use: Thread the Wondermag magnetic back straightener like a vest and adjust it using the lap strap and the two side straps. You can wear it every day. It adapts to all
morphologies.
Targeted pathologies:
Back pain.
Kyphoscoliosis.
Scoliosis.
10 magnets and 4 straps to straighten your back
10 magnets ø 25 mm, remanence 12 200 Gauss.
Thermoformed foam, lycra and polyurethane,
2 side straps (width 3.8 cm)
1 back strap (width 5 cm)
1 ventral strap (width 10 cm).
Light restraint.
Registered in the VIDAL.
Available in 2 sizes:
Size 1: 50 to 100 cm (Reference 00 153.01).
Size 2: from 100 to 130 cm (Reference 00 153.02).
If one of the templates is not displayed in the drop-down list, it is because it is currently a victim of its success.
Measurement:
Maintenance tips
Hand wash at 30°C.
Don't iron.
Creation 100% AURIS.

Free delivery
in relay from 89€ of purchase and free for Tribu members

Need help ?
+33 4 77 92 30 90
Monday - Friday
9am / 5pm

Order placed until 3:30 pm
same day shipping
Monday - Friday