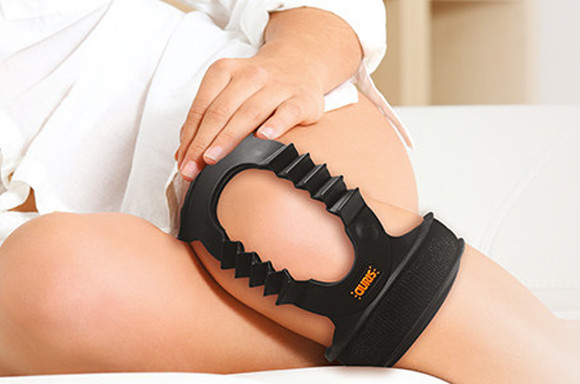 Leg / Thigh / Knee
Very complex articulation because it involves three bones, the femur, the tibia and the patella.
Cartilage ensures the fluidity of knee movements, it is then very important to preserve it. Auris R&D department has developed an original range of magneto-active orthoses for all knee pathologies. Easy to use, very effective and lightweight, they facilitate all movements.
Magnetic therapy, which consists of continuously applying magnets to the area to be treated, has been very successful in recent years with the medical profession due to its efficiency, its safe use and its positive action against chronic pain.
Knee osteoarthritis or gonarthrosis
European leader in magnetic therapy, Auris® has over 25 years of expertise in this field to advance research and product development that contribute to pain relief. In terms of pain, there is a pathology that is becoming a real public health problem, both because of the number of patients it affects and because of the lack of social security coverage for traditional medical and surgical treatments: knee arthritis.
Facing this disease that affects millions of patients and is constantly growing, Auris® has launched an extensive study: GONALGIS®. Led by the medical profession, this work focused on studying patients suffering from gonarthrosis from October 2018 to April 2019, before, during and after wearing a magneto-active orthosis (knee pad made up of therapeutic magnets).
With results much higher than patients and doctors could expect, an average reduction of 4.11 points in the pain threshold reached in just 3 months and a significant reduction in oral drug treatments in patients, Auris magnetic therapy is once again proving its effectiveness, opening up real and encouraging hope for the thousands of suffering people who will now be able to count on this effective and natural alternative, without any side effects.
Hundreds of millions of people affected by knee osteoarthritis
Osteoarthritis affects the joints, causes pain and deformation, stiffness and difficulty to move. By 2050, it is estimated that 315 million people over the age of 60 will be affected by the disease, of whom 105 million will be severely disabled.
The knee is a highly stressed part of the body and is naturally subject to this condition (then known as gonarthrosis), a phenomenon amplified by the ageing of the population and the increase in obesity. To relieve patients, two methods have so far been recommended:
Surgery: As an information, in 2009, surgeons performed 686,000 knee replacements and projections predict the implantation of 1.520 000 prostheses in 2020 and 3.48 million in 2030.
medicinal treatments: in France, however, the Social Security does not refund symptomatic slow-acting anti-arthritis drugs or hyaluronic acids, considering that the medical service provided is not sufficient to justify reimbursement by the national authorities. In addition, the use of anti-inflammatory drugs is frequently limited by adverse gastrointestinal, cardiac and renal effects, especially in older people already undergoing multiple treatments.
"With such information, any non-surgical, non-drug approach deserves careful evaluation. »
Treating gonarthrosis with therapeutic magnets
The GONALGIS study showed a powerful analgesic action, sometimes very rapid (only a few days) but usually rapid (within 1 month) and for some patients, slow (up to 2 months) of this magnetoactive orthosis in subjects with severe knee osteoarthritis. The positive effect of magnetic therapy on pain led to a very significant reduction in the consumption of painkillers confirming the achievement of the two primary and secondary objectives set by Auris. The range of products on offer then evolved to provide you also with the Gonoflex magnetic knee pad or the Wondermag magnetic patella