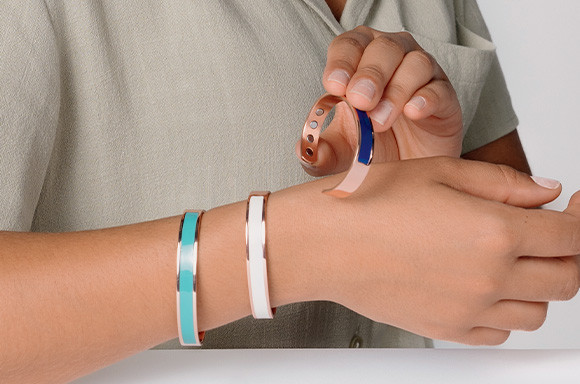 Bijoux magnétiques
Discover the many benefits of AURIS magnetic jewellery with trendy designs or timeless classic lines. For all desires and occasions, AURIS has chosen to work with the finest materials and semi-precious stones for its collections.
For example, Auris uses 99% pure copper, well known for its anti-inflammatory and anti-rheumatic properties, or hematite also known as "blood stone" with multiple virtues. All Auris jewelleries are magnetic, combining charm and countless benefits of magnetic therapy. Let yourself be seduced by our pretty rings and beautiful earrings, treat yourself with our bracelets and necklaces.
Product benefits

Beauty
Stimulating and rebalancing energy, the elegant trump card with multiple virtues.

Energy
In addition to other magnetic solutions, our jewels provide an after-effect.

Wellness
The combination of charm and the benefits of magnets.