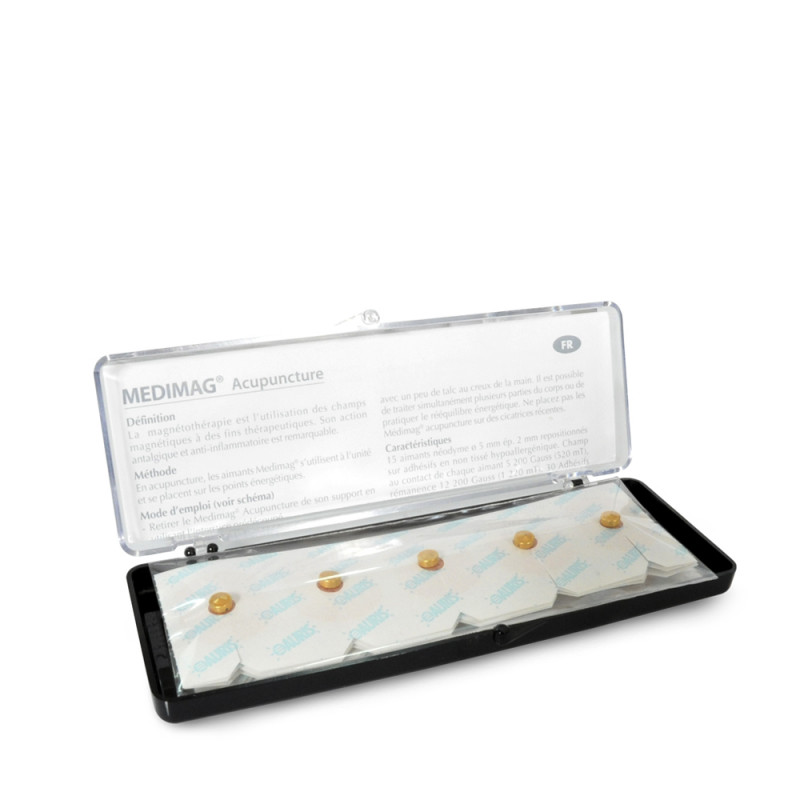  
Medimag Gold Acupuncture
All the benefits of acupuncture without needles! Medimag Gold Acupuncture prolong treatment beyond the session. Solid notions of acupuncture are essential. It's advantages : 10 powerful neodymium magnets, rounded edges that do not mark the skin, permanent identification of the North polarity.
Voir le descriptif complet
Customers who bought this product also bought:
In addition, regardless of the number and duration of use, Medimag Gold Acupuncture retains all their effectiveness. Remember to bring them on the go!
10 neodymium therapeutic magnets 5 mm, thickness 2 mm, remanence 12 200 Gauss
Neodymium therapeutic magnets pre-positioned on hypoallergenic non woven adhesive
30 additional adhesives provided
Additional adhesive packs for Medimag Gold Acupuncture:
Pack of 30 additional Medimag Acupuncture adhesives

Free delivery
in relay from 89€ of purchase and free for Tribu members

Need help ?
+33 4 77 92 30 90
Monday - Friday
9am / 5pm

Order placed until 3:30 pm
same day shipping
Monday - Friday