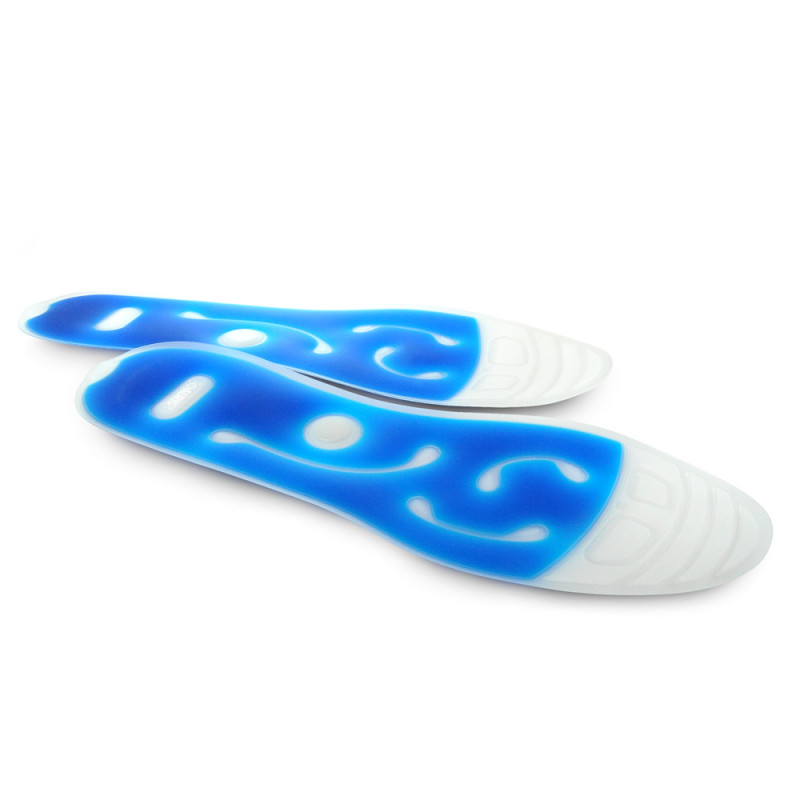  
Magnetic soles blue gel
Auris gel soles (small model: 36 to 40) are the only ones on the market with a neodymium therapeutic magnet (north right foot and south left foot). Comfortable, they are suitable for everyone. The gel absorbs shock and pressure and the neodymium therapeutic magnet provides a pleasant feeling of lightness and well-being at each step.
Voir le descriptif complet
Customers who bought this product also bought:
1 neodymium magnet ø 15 mm per sole, remanence 12 200 Gauss.
100% polyurethane.
Thickness: 2 mm.
White and blue color.
Gel magnetic soles are available in 2 sizes :
Small model: from 36 to 40
Large model: from 41 to 45
Answers to the questions you ask yourself:
They can be worn every day.
Very thin (2mm), they slip into all your shoes.
Compatible with other AURIS products.
Maintenance tips :
Washable with warm soapy water.
Dry at room temperature.
Make sure there is no small pebble in your shoe, which could damage your sole.
Pathologies:
Heavy legs.
Venous lifts.
How to use: To match gel soles precisely to your size, cut the white part of the sole (tiptoe) with a chisel. To avoid damage to the sole, it is necessary to respect the cutting lines.
In the summer, after a stay in the fridge, your magnetic insoles gel spread a tonic sensation of freshness.
Creation 100% AURIS.

Free delivery
in relay from 89€ of purchase and free for Tribu members

Need help ?
+33 4 77 92 30 90
Monday - Friday
9am / 5pm

Order placed until 3:30 pm
same day shipping
Monday - Friday