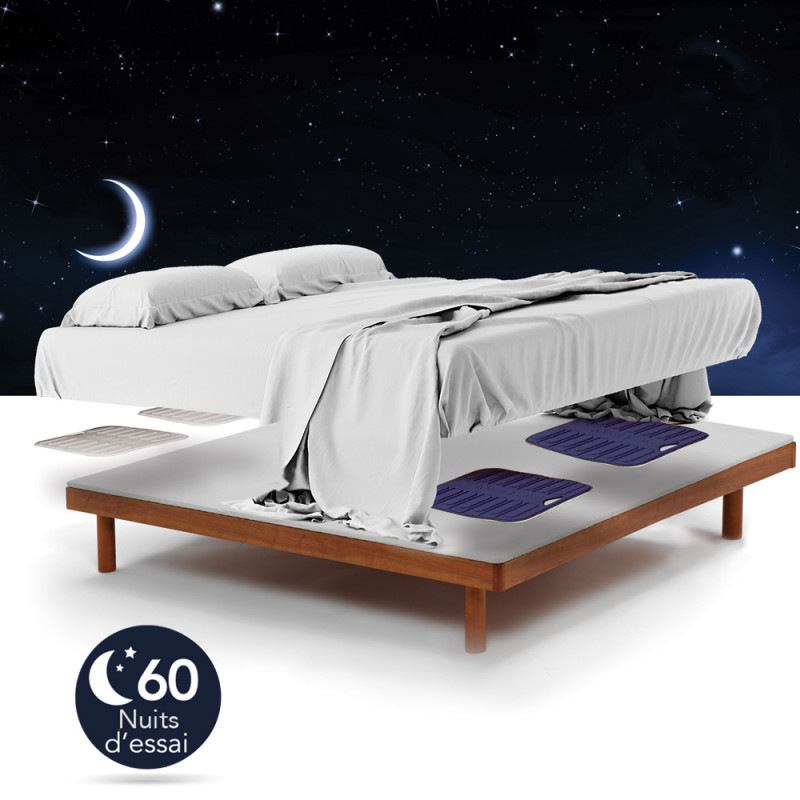  
2 sets of Actipol sleep
2 sets of 2 plates for 2 people, 14 x 4 ceramic magnets, studied design, 2 x 2 flexible plates easy to install, suitable for everyone, regardless of age, including children and adapt to all bed bases and mattresses (even with metal elements).
Voir le descriptif complet
Customers who bought this product also bought:
2 sets 2 x 14 ceramic magnets
Field value measured at 20 cm above a plate: 2.5 Gauss
Thermoformed foam
Washable polyester fabric (water + soap)
Dim. 415 x 300 mm, thickness 20 mm
Weight 2 x 1,160 kg
Your sleep is restless, your nights are disturbed, you have trouble getting to sleep or going back to sleep ... Fatigue sets in, the Actipol set is for you!
To naturally find a restful sleep, the highly innovative Actipol set creates an ideal North / South orientation without changing anything in your room!
It also generates a magnetic cocoon that places the sleeper in a healthy and serene environment and eliminates geopathogenic disturbances.
A recent study shows that the Actipol set improves the quality of sleep, reduces nighttime awakenings, and eases sleep (especially for people who do not have a head in the North).
Tip! Available in individual set for 1 person
Good to know: a good investment for your health, the set Actipol does not lose its effectiveness over time. Magnetic field value measured above the 2.5 Gauss mattress.
100% Auris Creation

Free delivery
in relay from 89€ of purchase and free for Tribu members

Need help ?
+33 4 77 92 30 90
Monday - Friday
9am / 5pm

Order placed until 3:30 pm
same day shipping
Monday - Friday