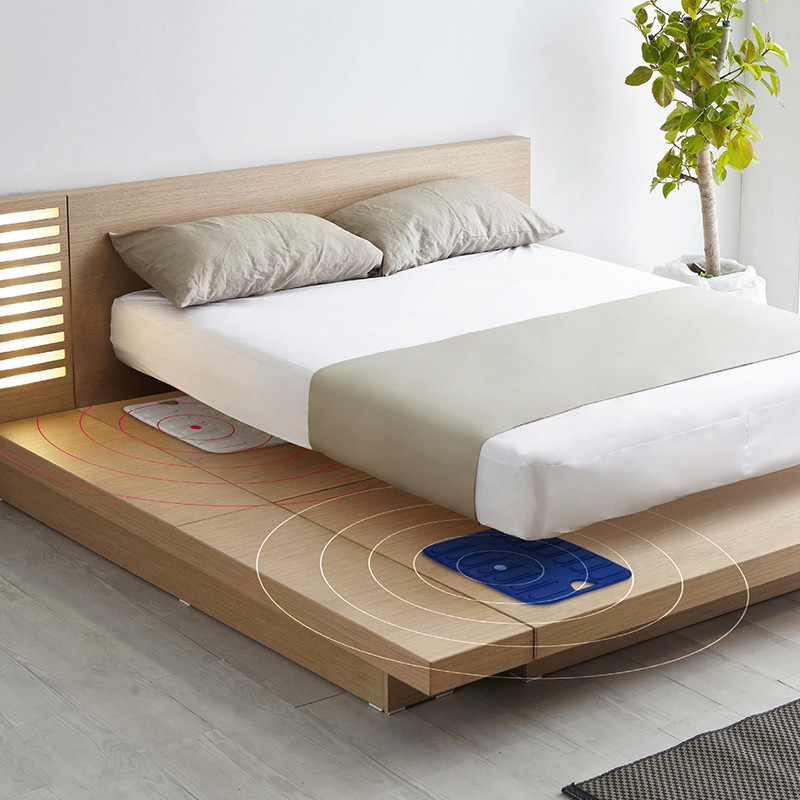  
Customers who bought this product also bought:
Try it in peace, you have 60 nights!
This trial period allows you to test serenely the effectiveness of our Actipol sleep set. With more than 98% of our customers satisfied, we bet you will adopt it! If you are not satisfied, return it and you will be fully refunded, excluding shipping costs.
Sleep in a protective magnetic bubble
Magnetism is a force of the universe just like gravity. We are constantly immersed in a natural magnetic field, and when that magnetic field is disturbed, the effects on our sleep are inevitable.
"And for patients who were not sleeping with their head northward, sometimes because of ignorance, sometimes because they couldn't do anything else, the improvement is spectacular." Dr. Jean Luc Renevier, co-author of the study.
2 x 14 ceramic magnets
Field value measured at 20 cm above a plate: 2.5 Gauss
Thermoformed foam
Washable polyester fabric (water + soap)
Dim. 415 x 300 mm, thickness 20 mm
Weight 2 x 1,160 kg
Carry box
4 actions for a better sleep:
North/South axis recovery The ACTIPOL set places the bed in the correct North/South geo-magnetic axis without moving it, regardless of its original position.
Homogeneous and balanced field The ACTIPOL set provides effective protection by placing the sleeper in a continuous field, largely preponderant on parasitic fields.
Elimination of harmful spots The ACTIPOL set places the bed in a homogeneous and always neutral area (Hartmann network).
Magnetic Homeostasis The ACTIPOL set restores your sleep quickly and safely by restoring the sleeper's magnetic homeostasis.
Relieves sleep-related diseases:
Fibromyalgia.
Restless sleep.
Insomnia.
Answers to your questions:
The ACTIPOL set is for everyone, adults or children.
It is compatible with all types of spring boxes.
It is compatible with all types of mattresses, from the thinnest (futon type) to the thickest (40 cm).
Compatible with other AURIS products.
The ACTIPOL set is designed for one person. For a double bed, provide 2 sets (ref. 00012.1).
Maintenance tips:
Polyester fabric washable with soapy water

Free delivery
in relay from 89€ of purchase and free for Tribu members

Need help ?
+33 4 77 92 30 90
Monday - Friday
9am / 5pm

Order placed until 3:30 pm
same day shipping
Monday - Friday